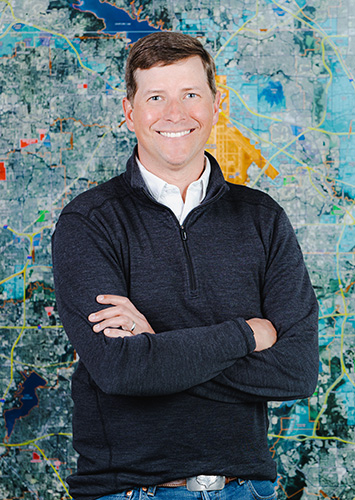 Mark Harris
Vice President - JRHP
Founder and President - 8 Feet Development
In 2014, Mark Harris founded 8 Feet Development, a commercial real estate development company, to purchase, preserve, repurpose and lease older buildings. An affiliate of James R. Harris Partners, the company specializes in adding value for its investors by saving and repurposing classic but underutilized buildings in Dallas/Fort Worth and Greater Austin. The company name, 8 Feet Development, was inspired by the fact that the company's four owners are Mark, his wife and their two children.
President of 8 Feet Development, Mark also has positions at the following companies of James R. Harris Partners: vice president, asset and property manager of JRHP; vice president of asset properties for HF Management Cos.; and property manager of Foch Street LP, Foch South LP and Ridgmar Retail Group. He is involved in raw land acquisition, redevelopment and management, analysis of potential properties, lease negotiation, partnership establishment and investor relations.
As the son of Jim Harris, founder of James R. Harris Partners, Mark grew up in the commercial and residential real estate development business. Through the years, he has established long-term relationships with tenants and vendors. He has built a strong foundation of business based on loyalty and family. Earlier in his career, Mark was a retail leasing broker for The Woodmont Company in Fort Worth, and he was a construction superintendent for D. R. Horton Homes and Choice Homes, both in San Antonio.
Active in industry affairs, he is currently a Certified Commercial Investment Member candidate and a member of the Urban Land Institute, the International Council of Shopping Centers and the Society of Commercial Realtors of Fort Worth. In the community, he serves on Camp Fire USA's Outdoors Development Programing Board and on the First Presbyterian Church's Fort Worth Property Committee.