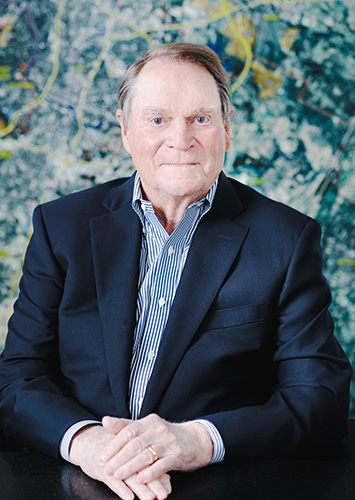 Jim Harris
Founding Partner
Jim Harris has been successfully developing and investing in real estate since 1975. With experience in the title insurance, real estate and homebuilding industries, he founded James R. Harris Partners in Fort Worth in 1979. He entered the Austin market in 1992. Today, Harris & Straub, an affiliate of James R. Harris Partners, is one of the most respected and largest land and residential developers in Greater Austin.
Jim knows the ins and outs, the rules and the exceptions, in successful and responsible land use. With his solid track record and long-standing relationships, he has an acute ability to spot and seize developing opportunities, and he is adept at anticipating and capitalizing on new trends in land use.
Jim stays abreast of issues affecting real estate by taking an active role in business, city and community organizations. He is an organizer and member of the Board of Directors of First Texas BHC, Inc. and Southwest Bank, Fort Worth; a Builder Member of the Urban Land Foundation and a member the Neighborhood Residential Council of the Urban Land Institute and the ULI North Texas District Council. He served as vice-chair of the board of commissioners of the Fort Worth Housing Authority; a member of the Fort Worth Mayor's Task Force for Affordable Housing; chairman of the board of Trinity Terrace, a continuing care retirement community in Fort Worth; and on numerous community boards and committees concerning Fort Worth city zoning and development policies.
Jim graduated from Austin College with a Bachelor of Arts in Economics and Biology and continued his studies by earning an MBA from Texas Christian University.