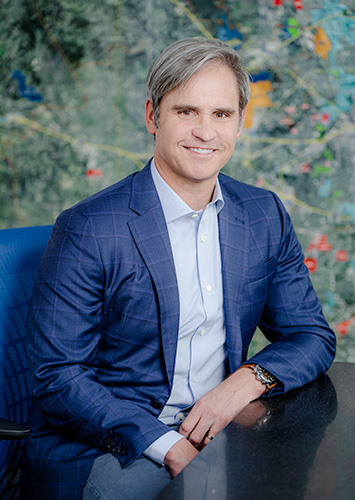 Andrew Blake
Managing Partner
In 2006, Andrew Blake and Jim Harris founded Presidio Interests, a commercial real estate investment
and development company, with an unconventional, forward-thinking approach. An investment interest of
James R. Harris Partners, the company specializes in transformative urban redevelopment projects, often
converting obsolete and underperforming buildings into meaningful, attractive properties, thereby greatly
enhancing value for building occupants, the projects' financial stakeholders and the surrounding communities.
As managing partner and owner, Andrew oversees Presidio's investment and development activities including
new acquisitions, management for development and redevelopment projects, and leasing and management of existing portfolio properties. He has acquired, developed or redeveloped over 225,000 square feet of urban infill commercial projects with an estimated value of over $50 million, including notable projects such as the Foch Street Warehouses (Foch Street South) and Magnolia + May. Previously he served in brokerage and portfolio management roles for several commercial real estate firms in Texas and California including Trammell Crow Company and CarrAmerica Realty.
A full member of the Urban Land Institute, he serves on its Small Scale Development National Product Council and as a member of its North Texas District Council. He currently or previously served on the Downtown Fort Worth Design Review Board; as chair of the board and chair of the Development & Urban Design Committee of the Cultural District Alliance (District Improvement Organization); as founder and chair of the board of Urban Green (nonprofit public tree planting program); and as board member of Streams & Valleys, the Modern Art Museum of Fort Worth, the Van Cliburn Foundation, Fort Worth South, Vision Fort Worth and the Lone Star Film Festival.
Andrew holds a Bachelor of Science in Human and Organizational Development from Vanderbilt University and an MBA from The University of Texas at Austin.