Aledo council OK's development agreement for Bailey Ranch
Published On: Oct 29 2019
Aledo council OKs development agreement for Bailey Ranch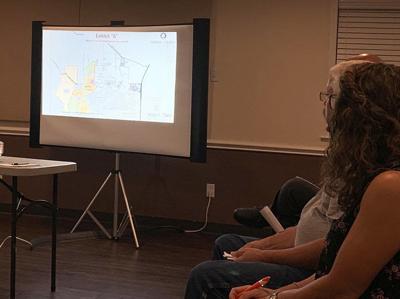 The Aledo city council unanimously approved additional development on Bailey Ranch Road, a continuation of the Parks of Aledo and Point Vista subdivisions.
"In April 2012, we came before you with a concept to develop the Bailey Ranch residential, which our plan called for over 1,000 houses to initially be built here. This was a large undertaking, a large discussion and a large concern for the council and planning and zoning commission and I can understand that," Jim Harris of James R. Harris Partners, LLC said. "That's a lot of houses, particularly at that time. A lot of things have changed since then."
James R. Harris Partners, LLC developed Parks of Aledo and Point Vista, leaving more than a third of the land as open space for bike trails and public parks.
"We've got two more sections to develop and are a little more than halfway through with the project," Harris said.
Justin Welborn, a partner with James R. Harris, said they would like to develop the land the same way, connecting all the open space between the subdivisions and leaving space for parks within the new development.
"There is about 200 acres of land and the concept is like 480 lots, plus or minus," Welborn said. "We want it all connected with this native open space that we've done. We intend to dig some ponds and create a bigger community park. We really think this project is cool and want to keep it going in the same way it has been."
Welborn said most of the builders that have been involved in Parks of Aledo and Point Vista want to continue to the next project.
The council went into executive session at its meeting last week to discuss the proposal and expressed some concerns about building materials that will be used in the new project.
"I'm a big fan of the development, y'all have done a great job in the past," Place 2 Councilmember Matt Ribitzki said. "Obviously the city is making an investment in that area and higher development standards would help protect the city's investment. If I knew for a fact that [James R. Harris Partners] would always be there and you would produce what you've produced in the past, I would be thrilled because I love y'alls developments so much, but in the contract itself you have that it's assignable, so that's my point. I want something that protects the citizens to a greater extent, especially on materials."
Specifically, the council was looking at the masonry requirements that were presented in the agreement.
"You have to look to some extent to what the market is accepting architecturally and currently there is a desire for what's called the farmhouse look and that has some siding on it and we have allowed some of that, but these are not inexpensive houses," Harris said. "So what we're talking about is trying to accommodate what the market wants and I think we've done a pretty good job of doing that over the years and you have to be careful about that. We know that masonry tends to be a higher standard based on what most people like to see."
The council asked if they could specify in the agreement that the siding that would be used in any of the homes would be a higher quality like fiber cement siding. Harris and Welborn said they would put that in the agreement.
"This is not make anything cheaper, or look cheaper, it's that people are paying a premium for that product and we want to give that premium here," Welborn said. "I don't know what the percentage will be. The market will demand more siding in these phases than in Point Vista, the demand is always there for more than there is in Point Vista."
The siding used is just to create more of a variety in architecture between all of the homes, Welborn said.
The council was satisfied with the specification change and approved the development agreement.
https://www.weatherforddemocrat.com/news/local_news/aledo-council-oks-development-agreement-for-bailey-ranch/article_911ac887-39dd-5759-bf2e-7422daee6423.html